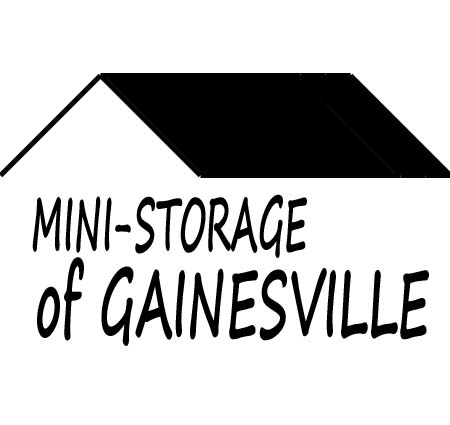 Home | About Us | Services Available | Truck / Trailer / U-Box Rentals | Storage Units | Packing Supplies | Location / Directions | Reference Links | Email Us


ABOUT US
---
Located in the old Hippodrome Theater building on NW 13th Street and NW 53rd Avenue. (The Hippodrome Theater eventually relocated to the historic Federal Building located in downtown Gainesville.)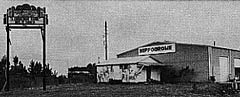 Established in 1995, Mini Storage of Gainesville is a family-owned and operated business which has been serving the Gainesville area We've been in the truck rental business for even longer. We began renting U-Haul trucks as far back as 1988. So all told, we've really been renting things to people
We offer lower rates and a variety of payment plans. Our facility is monitored and protected 24/7 by ADT Security Systems.
Mini Storage of Gainesville itself has a large repertoire of local and big-name customers who trust us and who have been using us for years. We believe that the reason for this is because Penske's fleet of trucks are always young (being less than 3 years old), and they are safe and constantly and regularly maintained. At Mini Storage of Gainesville we're also trying to look out for our customers so as to offer them the best possible deals that we can find.
Hours of Operation:


M-F: 8:30a-5:30p
Sat: 8:00a-5:30p
Sun: 9:00a-noon
---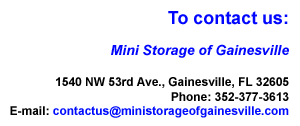 ---
Page Last Modified: May 18, 2012.
Home | About Us | Services Available | Truck / Trailer / U-Box Rentals | Storage Units | Packing Supplies | Location / Directions | Reference Links | Email Us
Copyright © 2009- K.R. Gentilecore. All Rights Reserved. Web page layout and design by T.L. Sherman.
U-HAUL, VISA, MASTERCARD, AMERICAN EXPRESS, and DISCOVER and all other trademarks, service marks or
registered trademarks appearing on these web pages are the trademarks or service marks of those respective companies.