U.S. SCANNER LAWS
---
WHEN LINKING PLEASE POINT TO THE PARENT PAGE ABOVE THIS AND NOT THIS ONE OR YOU'LL MESS UP MY COUNTER STATS! -THANKS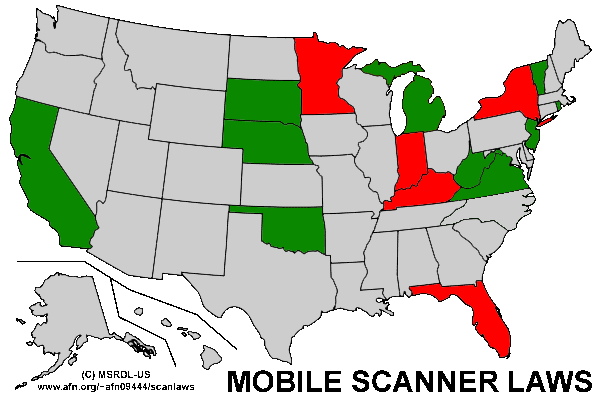 ON THE ABOVE MAP:
- Red indicates use illegal without an FCC license, or permission.
- Orange indicates legislation is being proposed, but use is currently legal.
- Green indicates use illegal in furtherance of a crime.
- Gray indicates no currently known legislation.
What does this mean? Well, for most of us, we only need to pay attention to those states marked in red. For all intents and purposes, the rest can be considered "gray."
Should you become aware of a new state law in the books, or of one that currently exists that we don't know about, let us know immediately and we'll put it up here as soon as possible.
---
CURRENT LAWS:
If scanners are known to be either illegal or restricted in any states they will be listed below, with links to the text of the law, if known. If a state is NOT listed below, there is NO known scanner law.
NOTE: The blinking "UPDATED" icon indicates that either the law has changed OR the law has at least been checked for changes to be sure it is current - even if no changes were found.
Color Coding Scheme for BELOW: If it's fine for the public to use a mobile scanner, but not okay to use in a crime, then the word "illegal" will be colored green. If the law is just too vague or otherwise not-too-intelligently written to accurately or safely interpret, then it's colored a shameful orange. (If you're a legislator, and your state got an orange color, then it's time for you to retire because you're just too confusing to be in office, now. You should hang it up.) If it's illegal for everyone (without some specific exemption or permission), then the word will be red.
COOL? Cool. Alrighty then! So, let's go...
COPYRIGHT NOTICE AND WARNING STATEMENT
---
When done browsing here, please take a look at my own
North Fla. Area Scannist's Page
!
---
Mobile Scanner & RADAR-Detector Laws In The U.S.
by Todd L. Sherman / KB4MHH
Gainesville, Alachua Co., Fla.
E-mail: mobilescannerlaws@cox.net
Page Created: (About August, 1995.)
Last updated: September 23, 2019.
COPYRIGHT NOTICE AND WARNING STATEMENT
ACKNOWLEDGEMENTS, CREDITS, and KUDOS
All information Copyright © 1995- by Todd L. Sherman/KB4MHH.
All Rights Reserved. Except for personal use, no part of this publication
may be reproduced, stored in a retrieval system, or transmitted in any
form or by any means, electronic, electrical, chemical, optical, mechanical,
photocopying, recording or otherwise without the prior written permission
of the copyright owner.

(Offered FREE as a public service to local area residents within Alachua County, FL
courtesy Alachua County SKYWARN and the Alachua County EMWIN Project.)