---
Alachua EF-0 Tornado - 03/24/2012
Date/Time: March 24, 2012 - 14:50 PM EDT
Location: Walmart Distribution Center, Alachua, FL
Submitted By: Jonathan Baker
Camera Used: iPhone4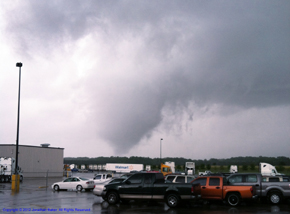 Much thanks to Jonathan Baker for the use of this photo, which was taken by him on March 24, 2012 at 2:50pm, from outside of the Walmart Distribution Center building located in Alachua, Florida. He was located in the small adjutting building attached to the north side of the much larger main building. View is to the northwest.
Tornadoes do occur within Alachua County. However, actually nabbing a photo or video of one has up until now proven to be very difficult. We've been researching tornado photography within Alachua County for a while and we've not been able to come up with anything up until now. This may well be the first-ever photograph of a tornado ever taken within the county. Congratulations to Jonathan on the shot, which was taken using his iPhone4. (He was also able to take some video of the tornado! We will upload that here as soon as we obtain it.)
On March 24th, 2012, a cold front passed through the area causing some minor severe weather events in various counties in Northern Florida and Southern Georgia. The Hazardous Weather Outlook that morning called for spotters to activate if warnings were issued, with thunderstorms expected to become strong with possibility of strong winds and hail.
At 10:45am, the SPC issued a WOU/Severe Thunderstorm Watch for Northern Florida and Southern Georgia, including the counties of Alachua, Baker, Bradford, Clay, Columbia, Duval, Gilchrist, Hamilton, Nassau, Putnam, St. Johns, Suwannee, and Union; set to expire at 7PM EDT. This was followed a few minutes later by a WCN/Severe Thunderstorm Watch issued by NWS-JAX for the same.
During the morning and afternoon, some SVS and SPS advisories were issued for various north Florida and southern Georgia counties.
At 3:26 PM, the following LSR was issued regarding some damage that had occurred in the vicinity of NW 196th Terrace in Alachua, FL...

NWUS52 KJAX 241926
LSRJAX

PRELIMINARY LOCAL STORM REPORT
NATIONAL WEATHER SERVICE JACKSONVILLE FL
326 PM EDT SAT MAR 24 2012

..TIME...   ...EVENT...      ...CITY LOCATION...     ...LAT.LON...
..DATE...   ....MAG....      ..COUNTY LOCATION..ST.. ...SOURCE....
            ..REMARKS..

0305 PM     TSTM WND DMG     5 WSW ALACHUA           29.75N 82.56W
03/24/2012                   ALACHUA            FL   PUBLIC

            STATE WARNING POINT RELAYED REPORT OF CARPORT DAMAGE AND
            TREES DOWN AT NW 196TH TERRACE.


&&

$$

MCALLISTER

Notice that the LSR referred to "thunderstorm wind damage" having occurred. At the time, it was thought that straight-line winds were the cause. However, a couple of days later, Bill Quinlan, the Lead Meteorologist at WCJB/TV-20 News, received an email from Jonathan Baker of Alachua with an attachment containing a photo of what appeared to be a funnel cloud passing very near to the Walmart Distribution Center. The WDC happened to be in close proximity to the location of the previously reported storm damage. Bill sent the photo in an email to NWS-JAX for study. In a response email (see), Jax agreed that the photo indeed was that of a funnel cloud, which likely lead to a tornado touching down farther down it's path, causing the damage at the 196th Terrace location.
Mr. Baker was located at the Walmart Distribution Center in Alachua, Florida. He was just outside the the door of the smaller adjutting building connected to the north side of the larger building, looking almost due NW when his photo was taken. He said that the photo was taken sometime between 2:45 and 2:50pm EDT. Mr. Baker advised that he was actually watching the funnel for a while with a coworker before he remembered that he had his cellphone with him and he took a photograph and some video with it. He said that before he began taking video, the tornado had approached from directly west of them and then it shifted towards the North. Then it shifted again the the NNW, and then back towards North again. Mr. Baker advised that it kept touching down and then lifting up again - that it did this about three times. His video begins towards the end at around the third touchdown. The photograph was taken first, and then the video. He added that when the photograph was taken, the funnel was probably a mile from 41. He also pointed out that the funnel was not actually over the parked trailers, but was farther out - over the field surrounding the Distribution Center.
So why didn't NWS-JAX warn for this? Well, for one, SPC and JAX had both issued a Severe Thunderstorm Watch bulletin much earlier in the day which were good until 7pm. Most importantly, though, due to the curvature of the earth, their radar can only see so low to the ground this far away. At our location, they can only see down to about 4000 feet. Beneath that, they can only guess at what COULD be going on beneath, and they need some help. This is where storm spotters come in. This is why storm spotters are needed. Spotters help to see what the radar cannot. With the help of spottter reports, the NWS can issue watches and warnings, refine them, or issue other notices as appropriate depending upon the severity of what the spotter is seeing. To help you see the effect of distance and height upon the radar, here is a diagram showing the NWS-JAX RADAR covereage area. Note that Alachua County is out to the very edge of the green area (4000-foot limit).
Due to the observed damage, NWS-JAX rated the tornado as "EF-0" on the updated "Enhanced Fujita Scale", which is at the lowest end of the scale. It should be noted that while this one was low in rating, Florida is still capable of producing tornadoes higher up the scale. Most tornadoes in Florida range from EF-0 to EF-2. However, there have been some EF-3s. There have only been two occasions of tornadoes in the F4 (old scale) range that have hit this state. One was in Tampa in 1966; and the other was in New Smyrna Beach in 1958. Florida has two tornado seasons. (There may be another...still researching.) The Spring season runs from February to April and normally produces the stronger of the tornadoes due to the positioning of the jet stream during that time. The second season, in the Summer, runs from June to September.
So what does the Tornado Scale look like? Here is the "Enhanced Fujita Scale":

Fujita Tornado Damage Scale

   (The original scale was developed in 1971 by T. Theodore Fujita 
   of the University of Chicago, and was in recent years refined.)

  SCALE      MPH         TYPICAL DAMAGE

   EF0    65-85 (mph)    Gale Tornado
                         Some damage to chimneys. Tree branches broken off. 
                         Shallow rooted trees uprooted. 

   EF1    86-110 (mph)   Moderate Tornado
                         Peels surface off roofs. Mobile homes overturned. 
                         Moving autos pushed off roads. 

   EF2   111-135 (mph)   Significant Tornado 
                         Considerable damage. Roofs torn off frame houses. 
                         Large trees snapped or uprooted. Light-object 
                         projectiles generated. 

   EF3   136-165 (mph)   Severe Tornado 
                         Severe damage. Roofs and some walls torn off 
                         well-constructed homes. Most trees in forests 
                         uprooted. Heavy cars lifted off ground. 

   EF4   166-200 (mph)   Devastating Tornado 
                         Well-constructed houses leveled. Structures blown 
                         off weak foundations. Cars thrown and large projectiles 
                         generated. 

   EF5   200+ (mph)      Incredible Tornado 
                         Strong frame houses lifted off foundations and 
                         disintegrated. Automobile-sized projectiles fly through 
                         the air in excess of 100 mph. Trees debarked. 


The Weather Channel recently produced a study saying that Florida is first as far as producing the largest number of tornadoes every year. (See related Gainesville Sun article.) The study takes into account tornado numbers per 10,000 square miles in a period from 1950 to 2010. We found an earlier study from the National Climatic Data Center (NCDC) which puts Texas at the lead but they only take into account numbers from 1991 to 2010. (See here.)

Related Text Bulletins From The Day/Event:

Satellite Imagery:*

* Does anyone have access to some higher-resolution imagery for this day around the time of the event?

RADAR Imagery:

(For a quick general description of the various radar products and each of their uses, see NCDC Radar Products.)

Site Aerial Photography:

Administrative 'Yet To Do':
Obtain video of event
Obtain and put up any other related damage photography/witness accounts, if any can be found
---
Alachua County SKYWARN
Gainesville, Alachua Co., Fla.
E-mail: admin@alachuaskywarn.org
Created: March 28, 2012.
Last updated: April 21, 2012.

Web Page Copyright © 2012- by Alachua County SKYWARN.
All Rights Reserved.

All photos and/or videos seen on this page are copyrighted
by their respective authors, and are used herein with permission.
---